CEO

Message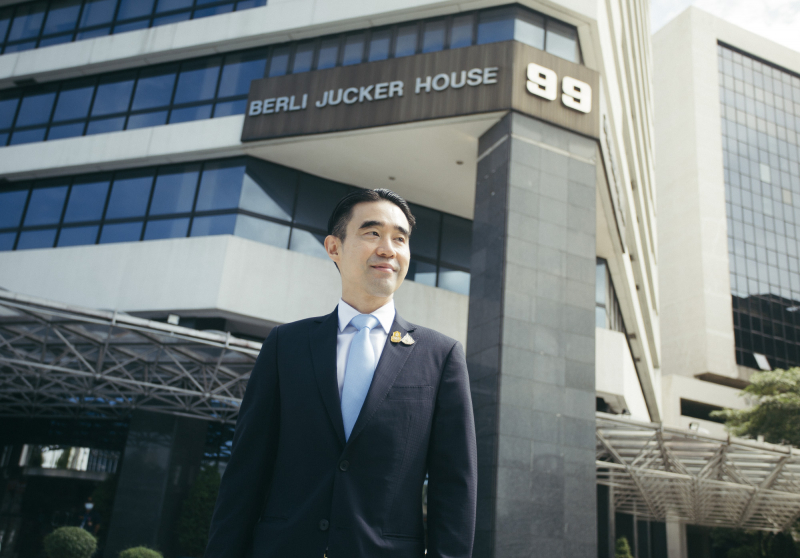 Berli Jucker Public Company Limited ("BJC") has always been committed to elevating the quality of life for all customers throughout our 139 years of operations in Thailand, by providing customers with high quality, safe and nutritious products and services, to meet the daily needs of all customers. As one of the original 7 companies to be listed in the Stocks Exchange of Thailand (SET), BJC is deeply rooted in the country's development and prosperity. For this reasons, BJC strives to continuously operate to benefit the country's Environment, Social and Economic (ESG), achieved through our commitment to "Growing Sustainably Together" with all our valued stakeholders against all new and emerging risks and opportunities.
In 2020, the emergence of the unprecedented global outbreak of the coronavirus (COVID-19) has motivated BJC to reinforce our corporate-wide sustainability strategy, to form "BJC" B: Better Living, J: Joint Success, and C: Caring for Community, encompassing BJC's commitment to improve the environment, achieve sustainable joint success with all stakeholders, while taking care for surrounding communities, covering the three dimensions of Environmental, Social and Governance (ESG), which are in accordance with the United Nations Global Sustainable Development Guidelines (SDGs).
Following the reassessment of our materiality topic prioritization in 2020, BJC confirms that BJC and our stakeholders expectations towards sustainability are align, prioritizing product quality and safety, human capital development, occupational health and safety, energy management, risk and crisis management, supply chain and customer and consumer relationship management. As such, BJC has implemented continuously developed and implement various initiatives to address these key concerns accordingly to improve the quality of life for all customers, through the integration of ESG considerations, conducting business in a responsible manner, free from bias and corruptions, in compliance with the WINNING attitude, minimizing risks, while meeting customer's expectations. Moreovover, BJC continues to reinforce fair labor management and equal opportunities for all employees, safeguard and promote fair labor management and health and safety of employees and surrounding communities, whilst minimizing negative environmental impacts.
As a result of all our hard work in integrating sustainability into our operations, BJC has received a number of recognitions from both domestic and international sustainability entities alike, including being listed in the Thailand Sustainability Investment (THSI) 2020 by the Stock Exchange of Thailand (SET) for the first time, Listed in the ESG100 List for the 3rd consecutive year, and listed in the Dow Jones Sustainability Index (DJSI) Yearbook for the first time in addition to being recognized as an industry mover within the Food and Staple retailing industry.
As we move into a new decade, we are looking forward to further enhancing and strengthening the sustainability culture within BJC, reinforcing our commitment and dedication to conduct our business based on the principles of good corporate governance, while being accountable to society and its environmental prosperity. On behalf of all the executives, I would like to thank all our employees, customers, business partners, and all stakeholders who have continuously supported BJC on our sustainable development journey. We promise to continue strengthening our green big tree and continue to grow sustainably together.
Mr. Aswin Techajaroenvikul
Chief Executive Officer and President