BJC

Materiality Topics

and Boundaries
In 2021, BJC reassessed the materiality matrix, to reaffirm that sustainability commitments, strategies and projects implemented are positively contributing to the economy, society and the environment, and are in line with the interests and expectations of relevant stakeholders, assuring stakeholders that BJC's sustainability approach is continuously updated and communicated throughout the value chain, allowing BJC to develop and initiate appropriate mitigation strategies and management of new risks and opportunities accordingly in a timely manner, enabling BJC to adapt to next normal operations.
Materiality topics are identified through a comprehensive assessment process, which takes into considerations the views and opinions of both internal and external stakeholders. This is conducted through consolidating a list of sustainability topics, relevant to the food and staple retailing sector, sourced from through benchmarking topics against global trends, social trends, accepted global standards, including The World Economic Forums, S&P Global, UN Global compact (Ten Principles), and SASB and industry peers.
In 2021, as a result of a comprehensive materiality assessment conducted in 2020, relevant external stakeholder's view is consolidated through stakeholder engagement as primary research, while secondary research is conducted through desktop review, which affirms that the materiality topics in 2020 remain representative of stakeholder's interests and expectations. Topics are then presented to relevant internal stakeholders for endorsements.
Materiality Consolidation

Process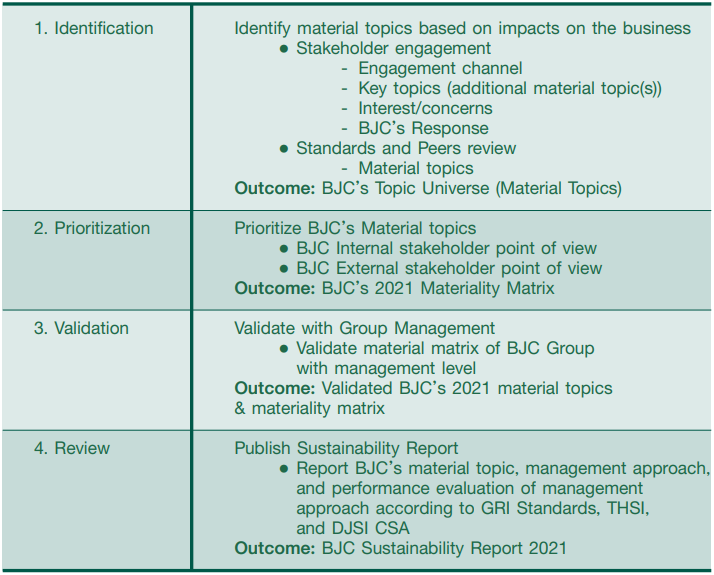 Stakeholder

Engagement

Categorization
BJC treasures the input and opinions from all relevant stakeholders, integrating provided feedbacks into new strategic developments, thus strives to continuously engage with all stakeholders. To accomplish this, the Sustainable Development working group, along with representatives from each business unit identifies relevant stakeholders to each business unit throughout the value chain, prioritizing each group based on the dependency and influence each group has to BJC, categorizing and identifying appropriate channels and frequency of engagement accordingly. Stakeholder categorization and engagement process are then reported to the Sustainable Development Committee for approval. Stakeholder engagement provided BJC with a better understanding of each stakeholder group requirements and expectations towards BJC, leading to the development of a clear and comprehensive commitments, policies, strategies and projects to foster and achieve these expectations. BJC engages each stakeholder groups differently, through various online and offline channels as follow.
BJC Stakeholders

Stakeholder Engagements Approach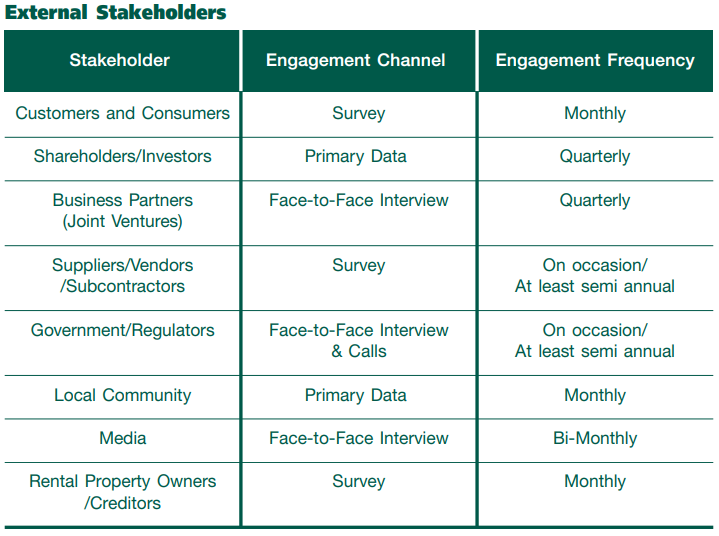 BJC Stakeholder Engagement 2021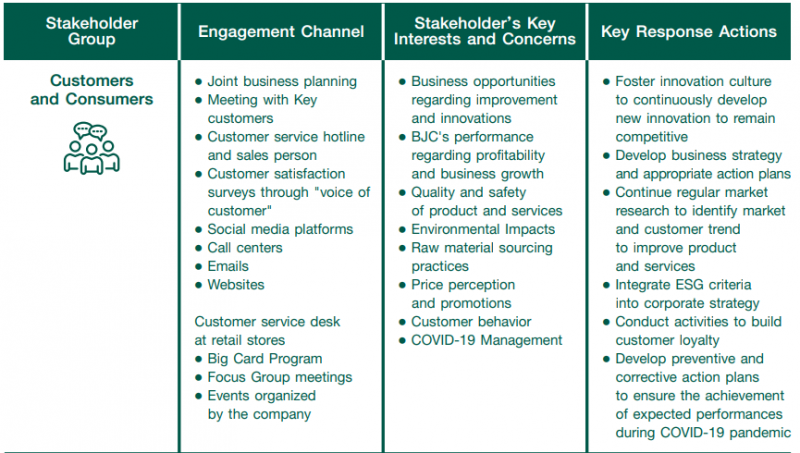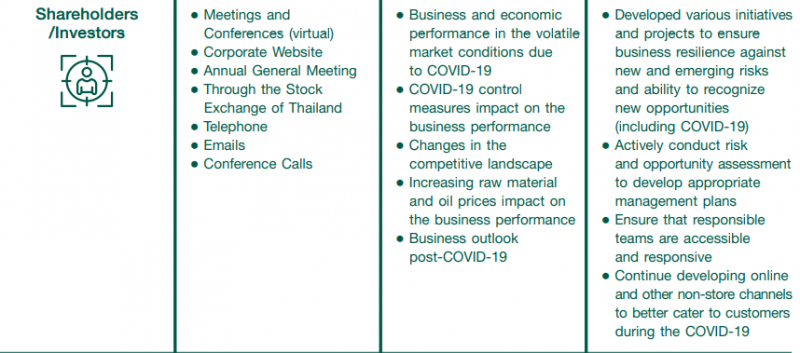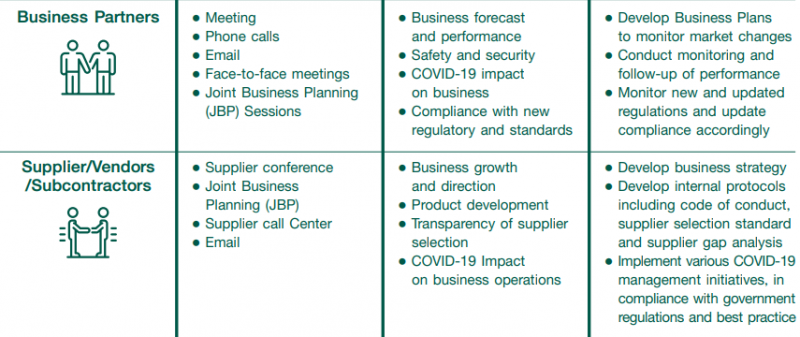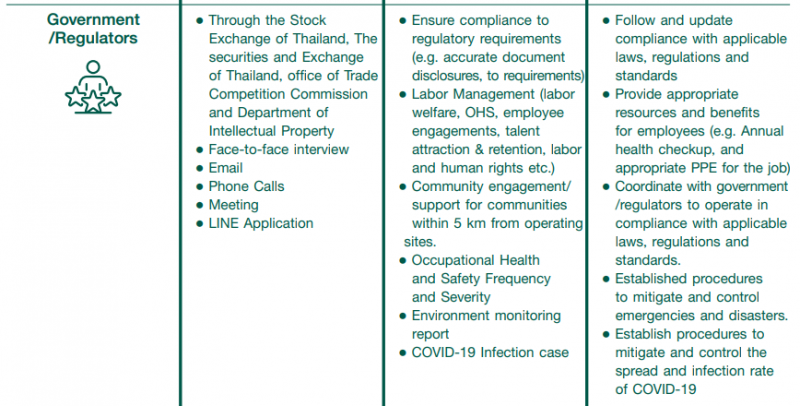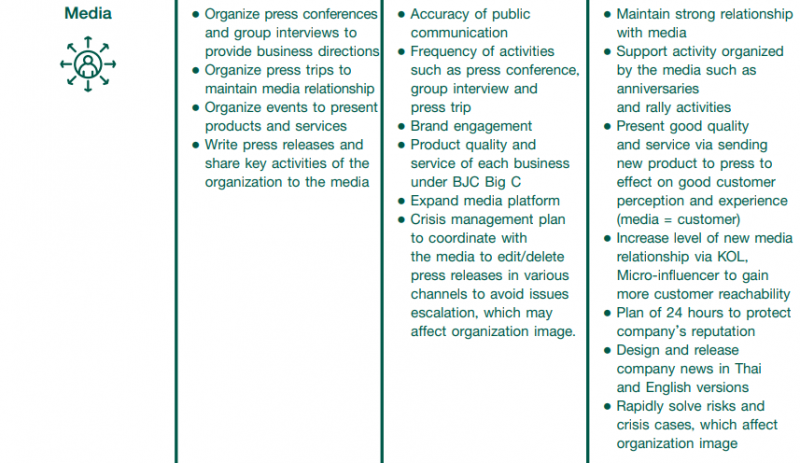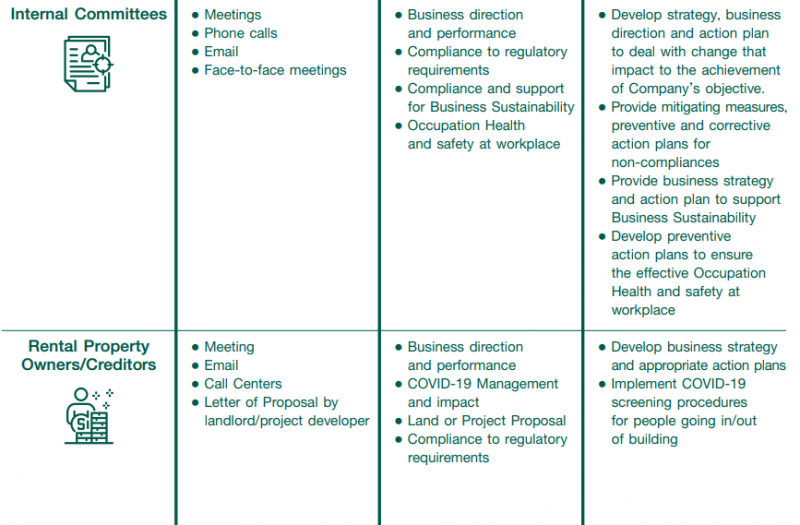 BJC 2021

Materiality Topic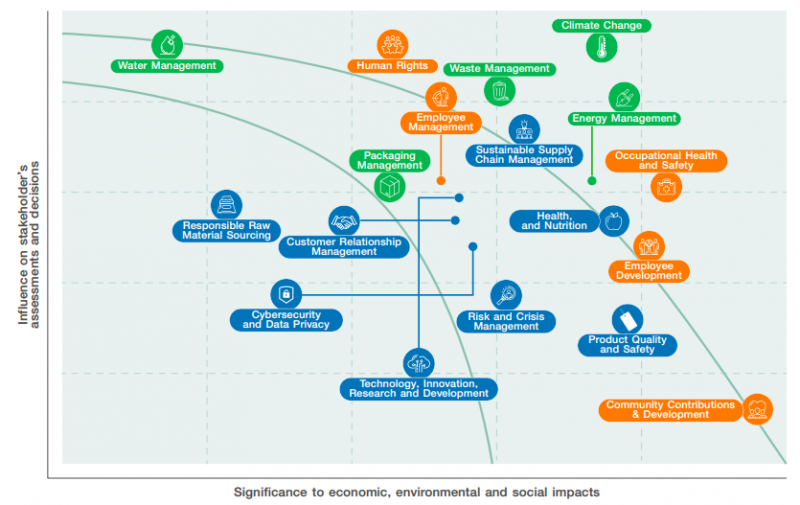 Changes to the Materiality Matrix in 2021
In 2021, BJC has a total of 18 materiality topics, compared to 19 in 2020. BJC disclose relevant management approach and performance data of these topics in accordance with the GRI Standards: Core options, ensuring a complete, transparent and reliable information disclosure. In 2021, these are the changes to the BJC materiality topics.
The topic of Corporate Governance and Transparency, which includes Business Ethics, and Anti-Corruption have been removed as a materiality topic, since BJC view that these practices are a business-as usual standards, required to uphold.

Supply Chain Management has been renamed as Sustainable Supply chain Management.

Raw Material Sourcing has been renamed as Responsible Raw Material Sourcing, which will cover, GMO, Animal Welfare, Organic Products and Biodiversity & Ecosystem within the chapter.

Climate Change has been renamed as Responsible Climate Change & Energy Management

Customer Data Privacy has been moved from Customer Relationship Management to Cybersecurity and Data Privacy.

Product Quality and Safety has been renamed as Product Health, Quality, Safety and Nutrition, which covers Responsible Product Labelling & Marketing within the chapter.

Waste Management will now cover Food Loss & Waste and Packaging Management within the chapter.

Water and Wastewater Management has been renamed as Water Management.

Talent Attraction, Retention, Diversity and Equal Opportunities has been renamed as Employee Management, which covers Talent Attraction, Retention, Employee Engagement, and Labor Practices.

Human Capital Development has been renamed as Employee Development.

Customer Relationship Management has been renamed as Customer Engagement.

Community Relations has been renamed as Community Contributions & Development.
BJC Sustainable

Development
BJC has adopted sustainability principles and approach, integrating sustainability considerations throughout the company, covering environmental, social and governance (ESG) dimensions in all business decisions, strategies, and targets. This approach does not only drive corporate sustainability, ensure business resilience when facing with emerging and unpredictable risks and opportunities, but it also contributes to the United Nations Sustainability Development Goals (UNSDGs) promoting sustainability throughout the value chain.